The International Spring Fair - Plovdiv
information by International Fair, Plovdiv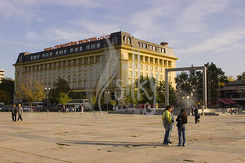 The International Spring Fair
this year will be held from 12 May - 17 May 2009. It is the most representative Bulgarian forum of consumer goods and technologies addressing entrepreneurs, producers and traders.
The International Consumer Goods and Technologies Fair is a favoured market event combining longstanding traditions with new opportunities. Renowned Bulgarian and international companies exhibit the latest developments and present the complete range of consumer goods, equipment and technologies: Food Products and Technologies, Machinery for Food Industry; Furniture; Building Materials, Tools; Household Appliances; Hotel and Restaurant Equipment; Textile and Fashion; Perfumery & Cosmetics; Packaging Industry. This year, a new project is to be launched within the framework of the Spring Fair – BOATS & SPORTS EXPO – an exhibition of yachts, boats, water sports and equipment.
The exhibitors are given the chance to participate in the Gold Medals Competition as well as in the Industrial Design and Packaging Design Competitions.
The Spring Fair is the venue for establishing direct business contacts between businessmen from the light and food industries, as well as organizing face-to-face meetings between traders and consumers.
The Spring Fair has been approved by UFI - The Global Association of the Exhibition Industry since 1985.
The exhibitors of International Fair Plovdiv take part in the following exhibitions:
• BOATS & SPORTS EXPO - Specialized Exhibition of Yachts, Boats, Water Sports and Equipment;
• BUSINESS CONSULTING
• EXHIBITION OF THE MUNICIPALITIES
• IMPRESSIA - Arts Salon;
• COSMETICS - International Exhibition of Perfumery and Cosmetics;
• MEBELTECH - International Exhibition of Furniture, Building Materials, Equipment and Technologies;
• STROYTECH SPRING - International Exhibition of Building Materials, Machines and Technologies;
• FOODTECH - International Exhibition of Food Products, Machines and Technologies;
• HORECA PLOVDIV - International Exhibition of Equipment for Hotels, Restaurants, Cafeterias and Commercial Facilities;
• JEWELRY EXPO - International Jewelry Exhibition;