Four hours of Gourmet Show every day at Vinaria 20
information by International Fair, Plovdiv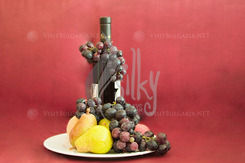 A 4-hour show will entertain those who enjoy exquisite wines and food every day of Vinaria 2009. The show is part of the Gourmet Zone organized for the first time within the framework of the International Exhibition of Vine-Growing and Wine Producing.
Top chefs and sommeliers will offer a variety of products, demonstrate the preparation of delicious meals and their pairing with the best complementing wines, as announced by the Bulgarian Gourmet Society, the partner of International Fair Plovdiv in this initiative. The event is addressing companies producing and importing high-end wine related products. Their products will be presented by the best experts to promote gourmet culture and the business serving it. Twenty-nine companies have already applied for participation in Vinaria's new section.
Seminars will take place within the Gourmet Zone, accompanied by gastronomy programmes. The seminars will cover pressing issues like food quality, consumers training and protection.
The gourmet subtleties will be revealed at a seven-course dinner served in the restaurant of Sankt Peterburg Park Hotel and at the Gourmet Zone demonstrations. The skills of distinguished chefs as well as luxurious tableware, serving accessories, ways of table arrangement will be presented there.
The aim is to highlight different aspects of the gourmet traditions attracting more admirers in Bulgaria in the recent years. The show will further add to the attractiveness of Vinaria 2009, which will put on display the new collections of wines and spirits of Bulgarian and foreign producers, technologies, machinery, equipment and materials for the vine-growing and wine-producing.