The International Technical Fair opens in Plovdiv
VisitBulgaria.net, September 30, 2013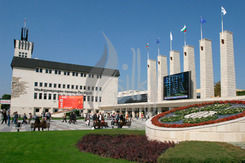 The 69th edition of the International Technical Fair opens today in Plovdiv.
The official opening will take place in front of Chamber 6 of the International Fair Plovdiv at 11:30 a.m. on Monday, September 30.
The International Technical Fair is the most renowned Bulgarian forum of investment goods and technologies.
The International Technical Fair presents the latest developments of the world's leading companies in machine building, automobiles, transport, information technologies, software products, electronics, electrical engineering, construction, chemistry, power engineering, ecology, etc.