Old Plovdiv Guesthouse is listed in the top hostels guide by Lonely Planet
VisitBulgaria.net, January 24, 2014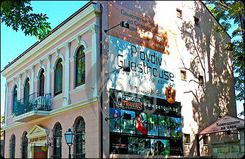 The Lonely Planet listed the Old Plovdiv guests house in Plovdiv among in the best value accommodation guide.
The guide described the hostel as a beautifully restored boutique hostel is right in the heart of Plovdivís colourful and cobblestoned Old Town. Private and dorm rooms are all bedecked with hand-picked antiques, and lovingly painted in pastel shades from orange to sky blue.
Whether youíre savouring a leisurely breakfast in the sun-dappled courtyard or snuggling down in an antique bed, the Old Plovdiv Guesthouse oozes old-world charm.
The entire property is a labour of love for the owner Hristo Giulev and his wife, who rescued it from dilapidation. Today itís unrecognisable, easily as lovely as the folk museums sprinkled around Plovdivís Old Town. And the entire staff welcome guests like family.
ďWithin ten minutes of arriving, I was sitting with hot tea and a basket of fish, shooting the breeze with the owner who immediately hooked me up with travellers heading the same way as me. The welcome I received at this guesthouse is a large factor in why I fell head over heels with this spirited city.Ē - Anita Isalska.