Celebration days of art "Spring in the Ancient Plovdiv" 2010
akademia-orfei.com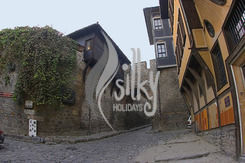 In 2010 the initiative Celebration days of Art "SPRING IN THE ANCIENT PLOVDIV" is carried out from 15th to 30th April for the third year – in the Ancient town of Plovdiv!
It presents:
A FESTIVAL OF GUITAR ENSEMBLES (classic and jazz) – on
23rd and 24th April
The organizer is the Academy of music, dance and fine arts – Plovdiv.
- On 23rd April – there can be seen Guitar ensemble "Akademika" and the duo of Borislav Yasenov (flute) and Stela Dinkova (guitar);
-
On 24th April
– The Guitar "ACOUSTIC TRIO 3000" of Tsvetan Nedyalkov, Ivan Lechev and Veselin Koychev in participation together with the famous Austrian vocal NATASA MIRKOVIC;
* PIANO MASTER CLASS
from 16th to 23rd April – led by Prof. Tatyana Levitina (a tutor in Moscow Conservatory "P.I.Chaikovskii"- Russia);
* SINGING MASTER CLASS
from 19th to 25th April – under the leadership of Mag. Art Natasa Mirkovic De-ro (Wien, Austria);
* PAINTING ART CLASS
from 19th to 25th April – Tutor: Mr Ivan Arabadziev (a painter and a member of The Society of Bulgarian Artists);
The master classes of piano and singing are ending with final concerts. And the beautiful end of painting art class is an exhibition that all participants take part in
On 29th and 30th April the program includes:
- A ceremony of awarding the distinct works in NATIONAL LITERATURE COMPETITION "THE FIRE OF ORPHEUS" 2010;
-A creative gathering of the participants in the competition. They have the chance to exchange experience and ideas, to have walk in the Ancient Plovdiv and get to know its cultural and historical landmark. They can learn that the creative work is also a team work!
During the Celebration days there is another competition which is organized especially for the children lack for parents' concern – A COMPETITON FOR THE BEST LOCAL SINGER. It's more than 80 children from all the social houses in PLOVDIV, ASENOVGRAD and BRACIGOVO to participate. The competition ends with a concert on 26th April.
With all the nice feelings and hopes for very beautiful moments shared in the future.
The organizers invite You to the third edition of
CELEBRATION DAYS OF ART "SPRING IN THE ANCIENT PLOVDIV" 2010!